The Riddle of Steel
By
Jason Stuart
May 2011 Smashwords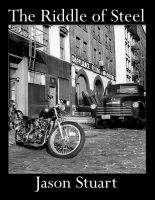 Mr Stuart's prose wears a Stetson. It's both staccato and languid. It's cowboy style. He can write well. Very well.
And yet with
The Riddle of Steel
we find ourselves staring once again into the big empty space between the ears of the world.
In a mixture of anecdote and homespun reflection, Mr Stuart proposes that it is legitimate to love one's motorbike more than most, or even all people, including spouses and offspring.
Which is a point of view, actually, I can sort of dig. As he points out, don't machines generally do what they are meant to do? There's no hidden agenda, no inexplicable behaviour, no equivocation, or downright perversity to vex or appal. You know where you are with pistons, et al.
The real riddle does not lie in the material world after all, but in the minds of human beings.
Which brings us to anecdote No. 2. A fully grown man (six foot five and weighing in at 300 lbs) who parks his "heavy iron" under a tree takes umbrage at a snake who innocently relieves itself from a sunlit branch onto the said "heavy iron". The man's ire leads him to flush the snake out of the tree and throttle it barehanded.
To her credit, his mother upbraids him for killing a harmless animal. His reply?
"You don't understand. Anything that pisses on my motorcycle HAS to die."
(p. 5)
There are a couple of observations to make here.
First, if the biker dude had sublimated his rage, gone off and throttled a local criminal/hoodlum/terrorist/loan shark/lawyer/banker (each of whom presents more of a threat to his motorcycle – and society – than a snake) then he would have warranted the admiration that he is awarded in Mr Stuart's book. But trying to kill something that either shoots back or will sue your ass isn't so easy, is it?
Second – isn't the whole of the argument undermined here? Does not a snake, or any animal – aside from the vexatious animal called Man – simply do what they do without evil intent, just like a machine would? Shouldn't the biker man, of all people, have said, "Bad Mr Snake! Still, it's better than being pissed on by a criminal/hoodlum/terrorist/loan shark/lawyer/banker, so I'll go and get a Terry cloth, like someone with a brain twenty-thousand times bigger than yours ought to, and you can go in peace."
Warning: Animals were harmed in the production of this ebook.